Recap Wb action day spring 2023
Once again, Urgewald, international partners and local Washington, D.C. groups put on a week of action in Washington DC.
Why? Because both Bretton Woods Institutions, the World Bank and the International Monetary Fund, fail to deliver a real transformative jolt but merely a half-hearted 'evolution'. Against the backdrop of multiple crises, evolution will not do – only radical reform will. To put more pressure on the World Bank Group, civil society organizations joined forces in critical sessions on panels at the Spring Meetings but also took protest to the streets of Washington, D.C. #WorldBankWorldProblems
Here is a timeline of what happened in D.C. this spring:
The week started off with a stunt at Murrow Park, where we made clear our demands to the incoming president Ajay Banga for his first 100 days:
End Fossil Fuel Finance
Just + Green Transition
Commit to 1.5°C
Drop the Debt
At a "Wrong Way on Climate"
bike rally in the evening
, around 100 activists called on Banga to clean up the World Bank's dirty financing.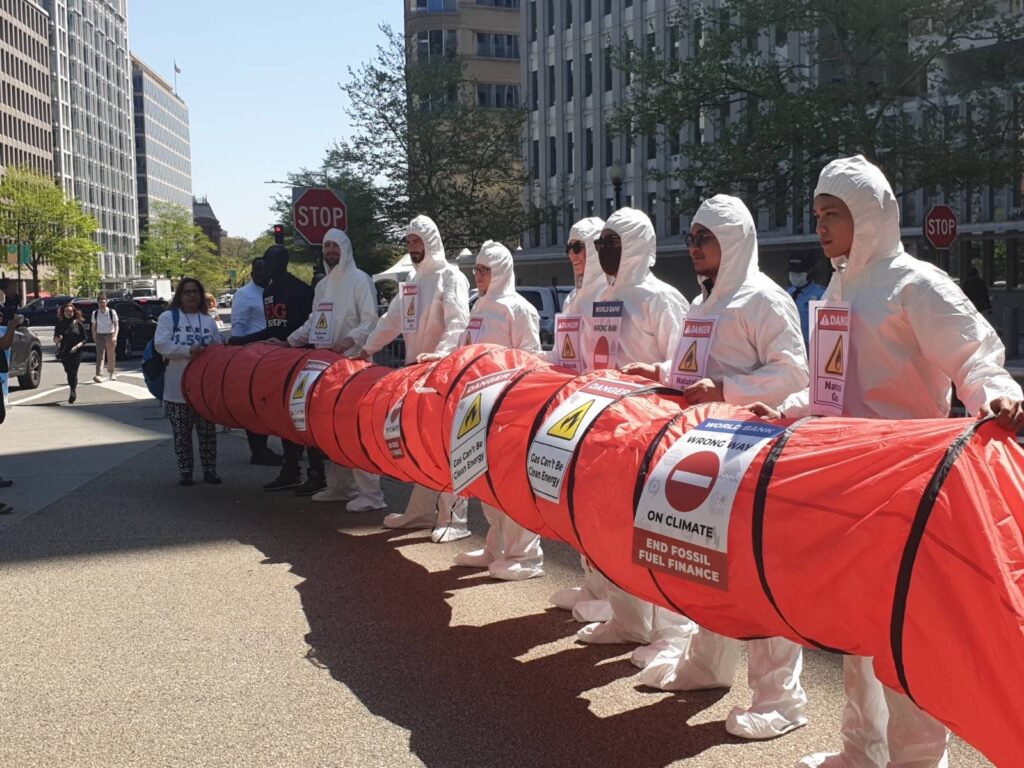 On Wednesday, there was a gas stunt in front of the World Bank Group HQ, done by Big Shift Global Campaign and Recourse.
These slogans could be seen on a bright-colored pipeline:
Gas Can't be Clean Energy!
Wrong Way on Climate!
End Fossil Fuel Finance!
#STOPFundingFossilGas
At high noon, people gathered in the small park across World Bank Group HQ. The D.C. groups distributed banners and, most importantly, rolled in the famous trojan horse.
The World Bank claims that the Bank does climate, trade, and budget finance. That sounds perfectly innocent. But behind the curtains, shrouded in a thick veil of non-transparency, all three forms allow for the indirect financing of fossil fuels. Up to now, the World Bank has not categorically stopped fossil fuel financing. Coal, oil and gas are still not on the Exclusion List, where we find alcohol, tobacco and nuclear waste among others. So, the policy of the World Bank regarding fossil fuel finance very much remains a trojan horse.
And up on the stage, our fantastic speakers came. Patrick introduced the work of the D.C. groups and what they are up to. Then Fiza kicked off the international speeches, giving testimony to the situation in Pakistan, drowned by floods and suffering from incredible heat. Andri and Maia gave us insight into the situation in Indonesia and Chile. Jeremiah raised the issue of the cruelty behind factory farming. Joseph gave an impassioned critique of the EACOP Pipeline. Dean raised his voice for "Don't Gas Africa". Jax rocked the floor to shut down the Bank. Aaron told us more about the financing of gas projects in his country. 17-year-old Reb gave us a slam fighting climate change. Patrick brought insights on South African politics. Shereen took aim at the World Bank's consistent ignorance over gender issues, also on the road to Marrakech with the missing visa. Finally, Sophie gave the thanks and final remarks. She also handed over a petition with over 30,000 signatures to "Ajay Banga", demanding "Clean energy now! Reform the World Bank!"
Everybody told the attentive audience why they accuse the World Bank of not living up to its promises. It was a fantastic hour of protest.
Here is the list of speakers:
Ute Koczy (MC) – Urgewald, Germany
Patrick Young – representing DC groups, US
Fiza Qureshi – Indus Consortium, Pakistan
Andri Prasetiyo – Trend Asia, Indonesia
Maia Seeger – Sustentarse, Chile
Jeremiah Lowery – Stop Funding Factory Farming, US
Jospeh – Stop EACOP Uganda (spoke spontaneously)
Bhekumzi Dean Bhebhe – Power Shift Africa, South Africa
Jax Bongon – IBON International, based in the Philippines
Reb Spring – Extinction Rebellion DC, US
Patrick Bond – University of Johannesburg, South Africa
Shereen Talet – Arab Watch Coalition, MENA Region
Sophie Richmond – Big Shift Global Campaign, UK
Then, we took to the street, surrounding World Bank and IWF HQs. We carried our banners, shouted slogans and when Fiza took the bullhorn down on the street – they heard all this in the building! Really!
NGO Voices on the Spring Meeting Outcomes