recap - world bank action day 2022
World Bank Action Day 2022:
Our demonstration on Friday, October 14, concluded the Days of Action in Washington, D.C. We listened to speakers from IBON International (Philippines), Trend Asia (Indonesia), Philippines Movement for Climate Justice, Sri Lanka, Stop Financing Factory Farming and Arab Watch (Mena Region). They gave powerful testimonials on the issues in their countries.
It all starts with a bed on wheels showing the World Bank and completely in black full body suit the oil companies. Behind this eye-catcher we line up with various banners. Our route takes us twice around the street blocks of the World Bank and IMF. We attract attention. The delegates, easily recognizable because they wear their badges, film us, are happy, frown and yet curious about what is happening. Colorful, loud, funny and diverse, this is how we draw attention to the climate crisis: We shout "What do we want – Climate Justice – When do we want it? Now!" or "Hey hey ho ho – David Malpass has to go"! Our T-shirt slogan is also enthusiastically chanted again and again: "Get You're A$ Out of Coal, Oil and Gas"!
Annuals 2022 (diary): A whole week of actions
by u.k. (urgewald)
This year, World Bank and IMF faced a very different situation in Washington D.C.:
Already on Friday, October 7:
A ramp up for the next "Glasgow Day of Action" to be held in Sharm el-Sheikh in November. Civil society groups around the world are calling for a "Global Day of Action" on the climate catastrophe, to urge governments to cut greenhouse gas emissions and shift to a low-carbon economy.
October 11:
The World Bank Building is embellished through a nice projection, featuring the Big Shift Global Report: The World Bank Group has spent US $14.8 billion supporting fossil fuel projects and policies since the Paris Agreement was made.
October 12: Bike Block
Invite for a colorful Bike Riders circulating in the roads near the WB building. With our slogans on one side and messages about the impacts of Fossil Fuel Finance by the WB on the other side.
October 13: The People vs IMF/World Bank
"For People For Planet" organizes a trial with testimonials from people of the Global South. What if these financial institutions were put on trial?
October 14: World Bank Action Day:
Testimonies from Global South partners on impacts of fossil fuel investments by the WB in their countries.
 March around the WB and IMF buildings. Starts with a bed on wheels showing the WB in bed with big oil. Chants and Music accompanying the big march.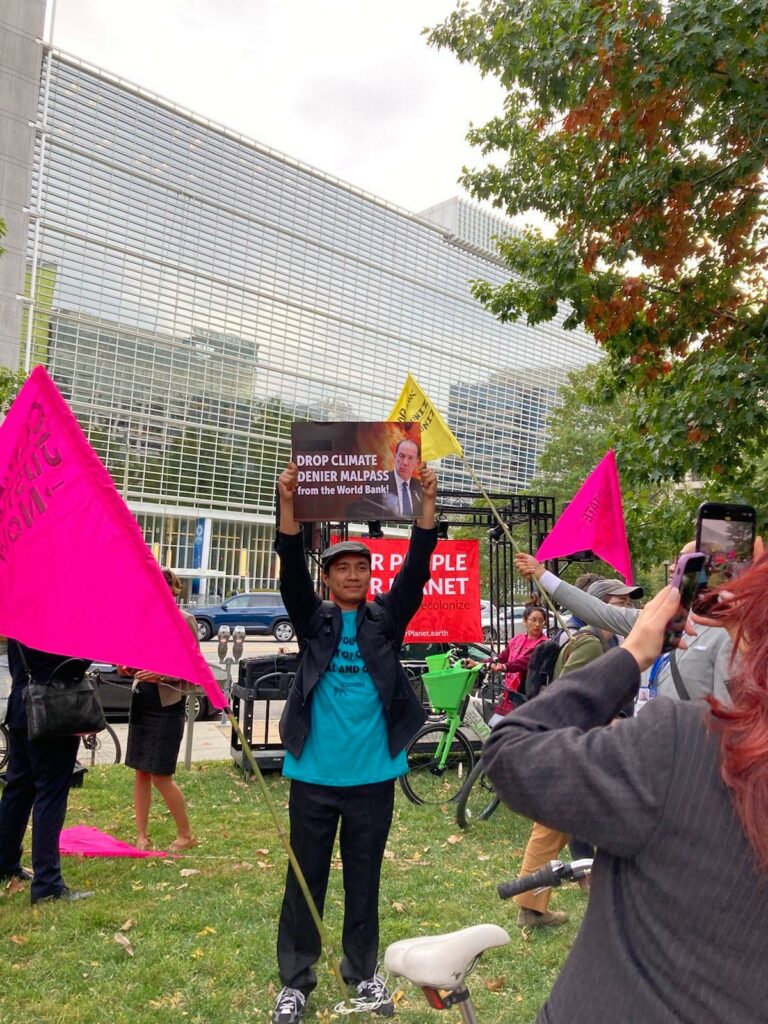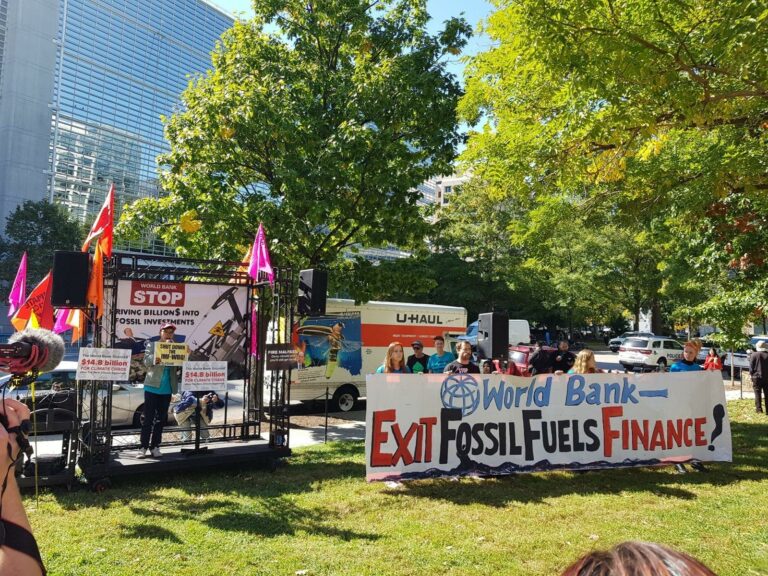 Protests in front of World Bank Headquaters, Washington D.C.
Photos by: urgewald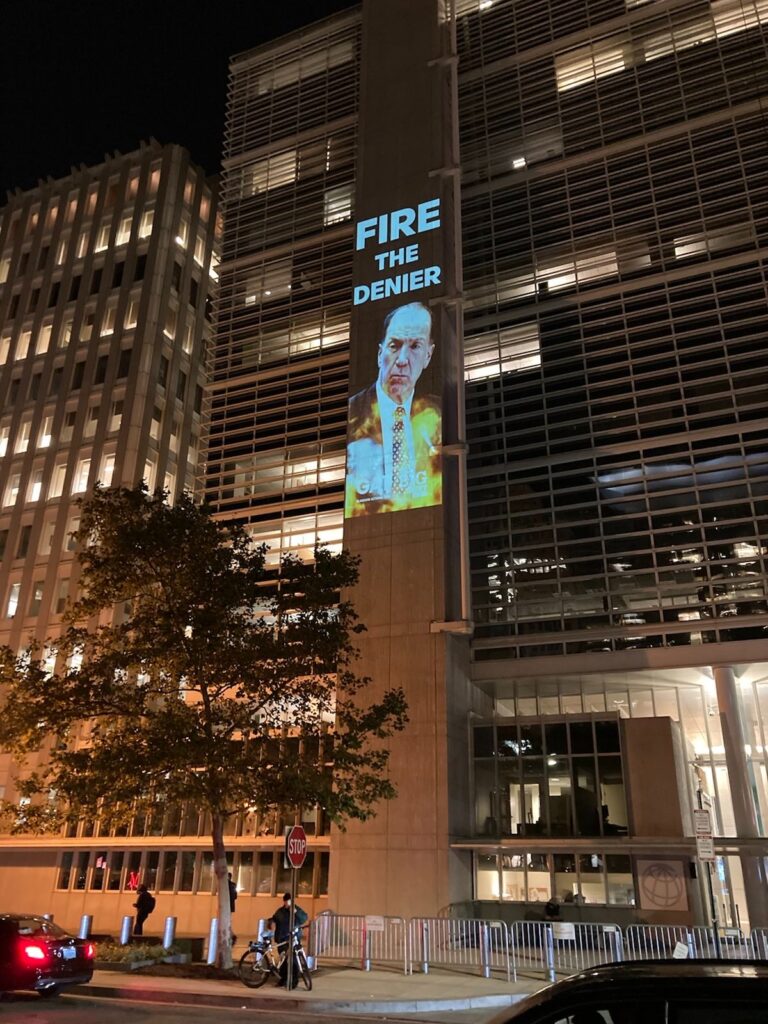 Projection on the World Bank Building. (left)
NGO's in front of projection (right): Trend Asia, Kosovo Women's Network (KWN), Asian Peoples' Movement on Debt and Development (APMDD), Recourse, Bank Information Center (BIC), urgewald
Photos by: urgewald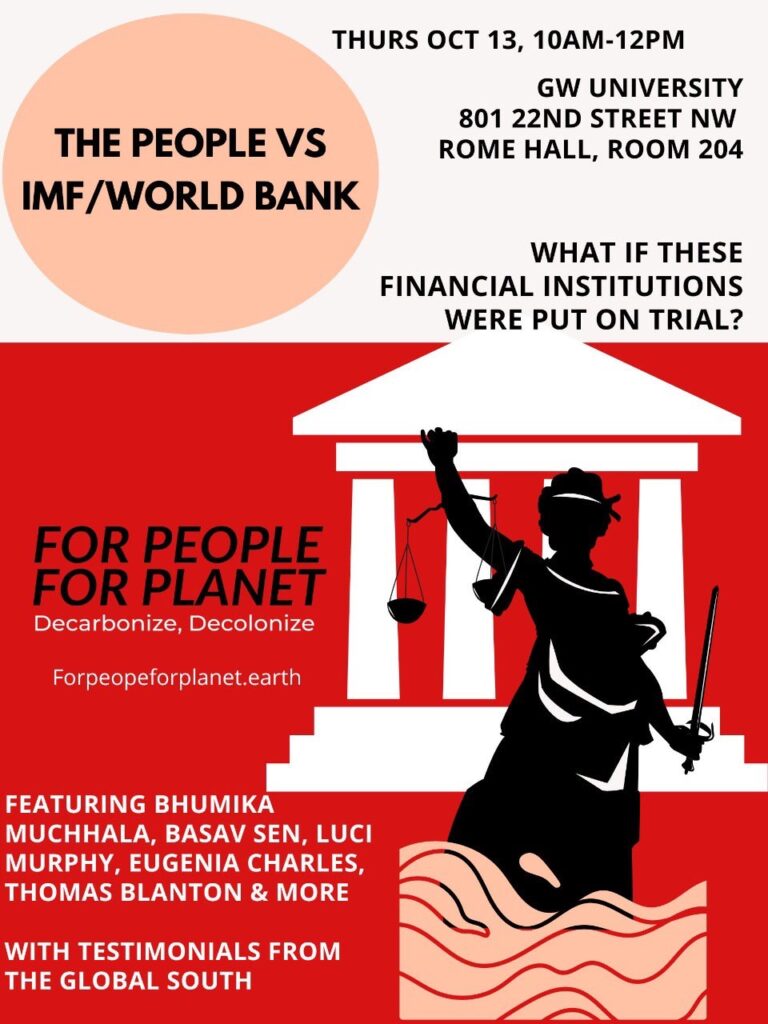 Poster (left): The People vs. IMF/World Bank Protest on Oct. 13th, 2022.
urgewald & Trend Asia stand together! (bottom)
Photos by: urgewald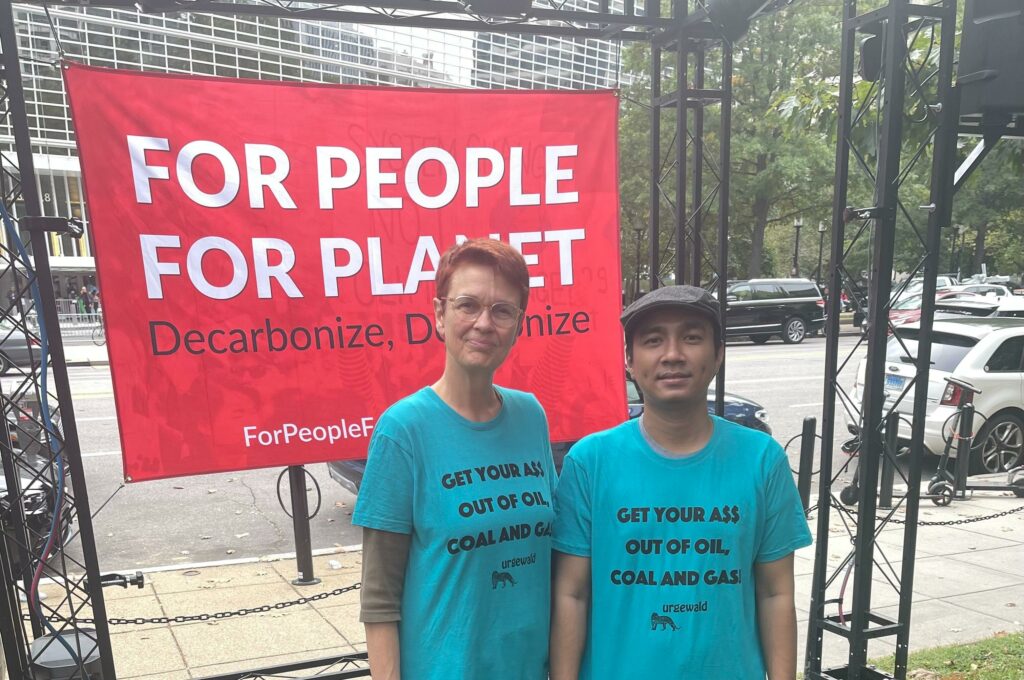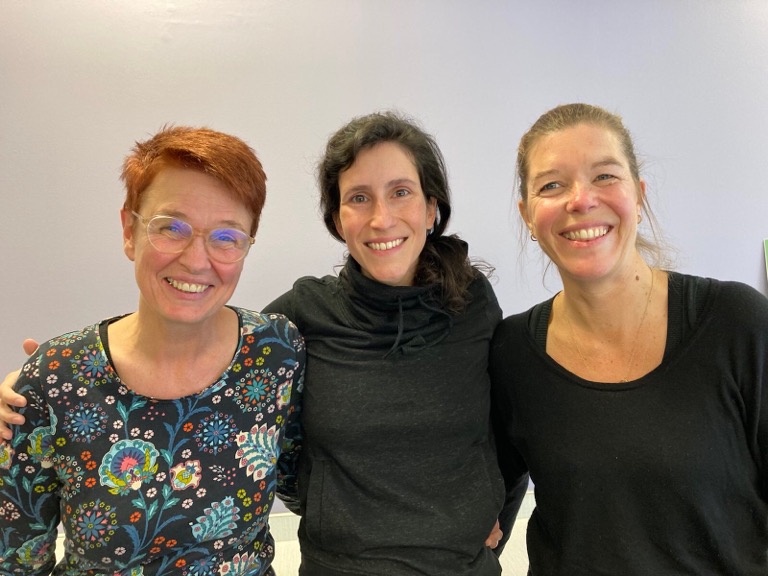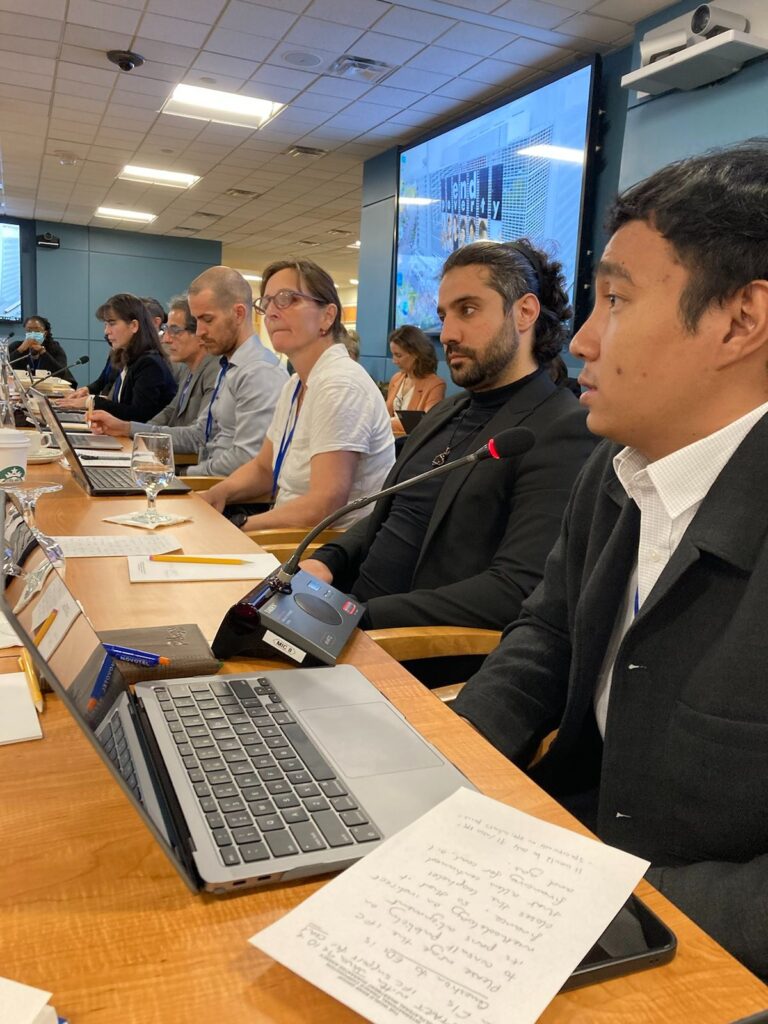 Meeting with european Executive Directors (ED), October 12th 2022.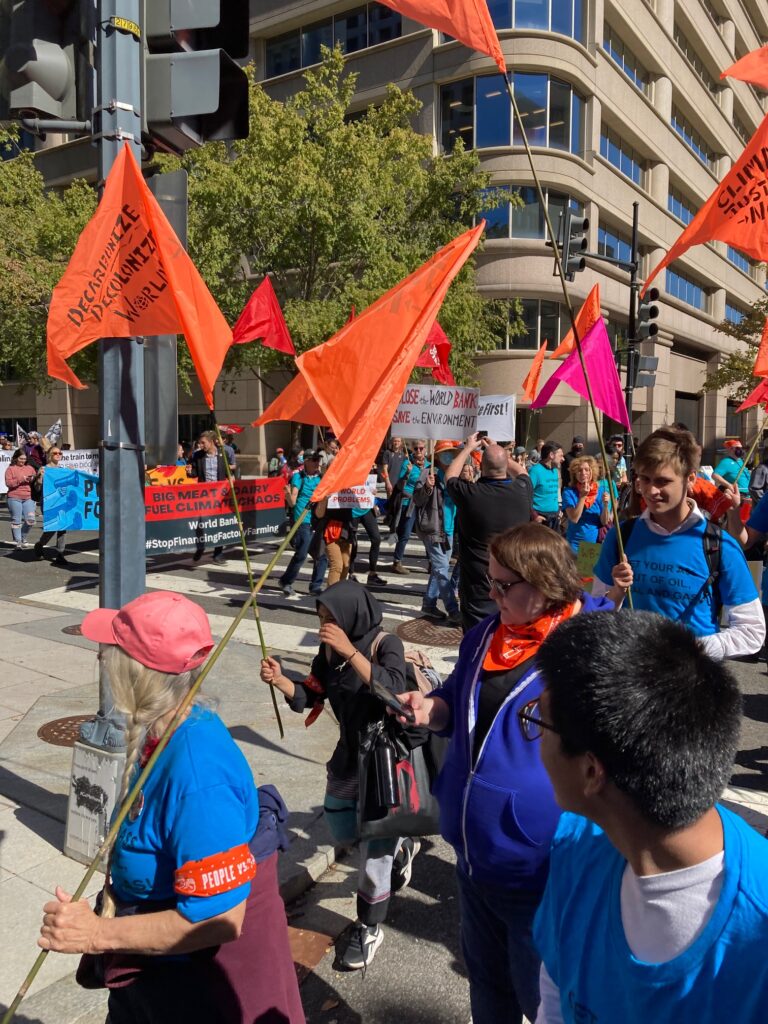 Protest March around the World Bank building (left)
Dustin Schäfer (urgewald) with Banner: "Stop Driving Billion$ Into Fossil Investments" (right)
Photos by: urgewald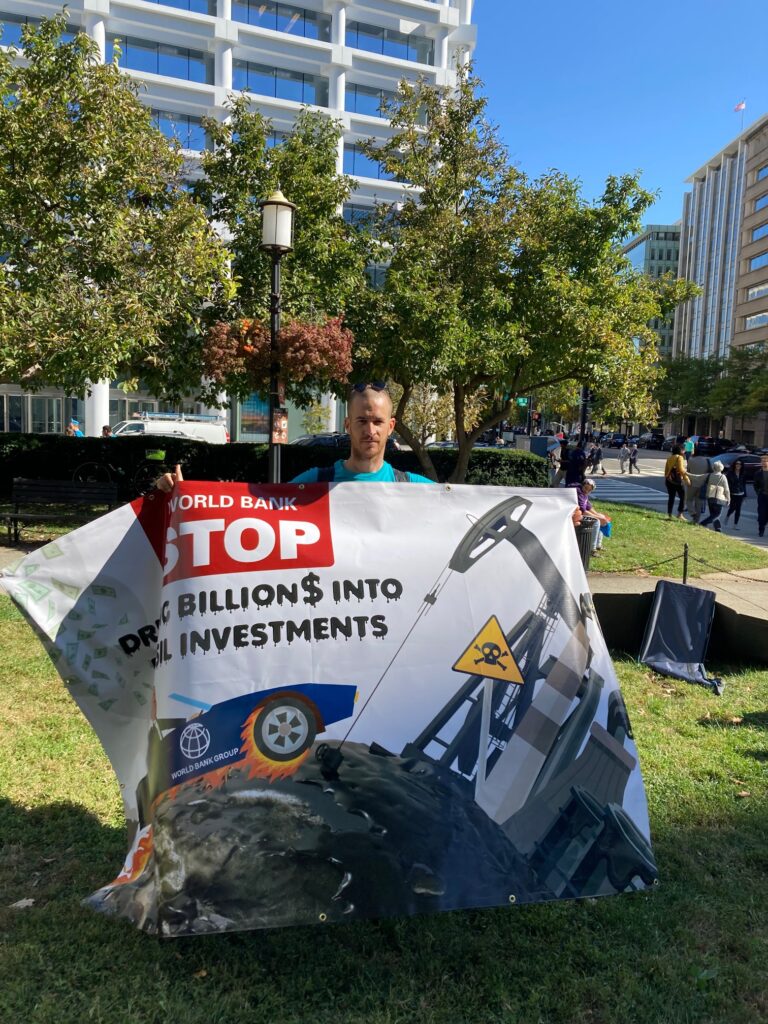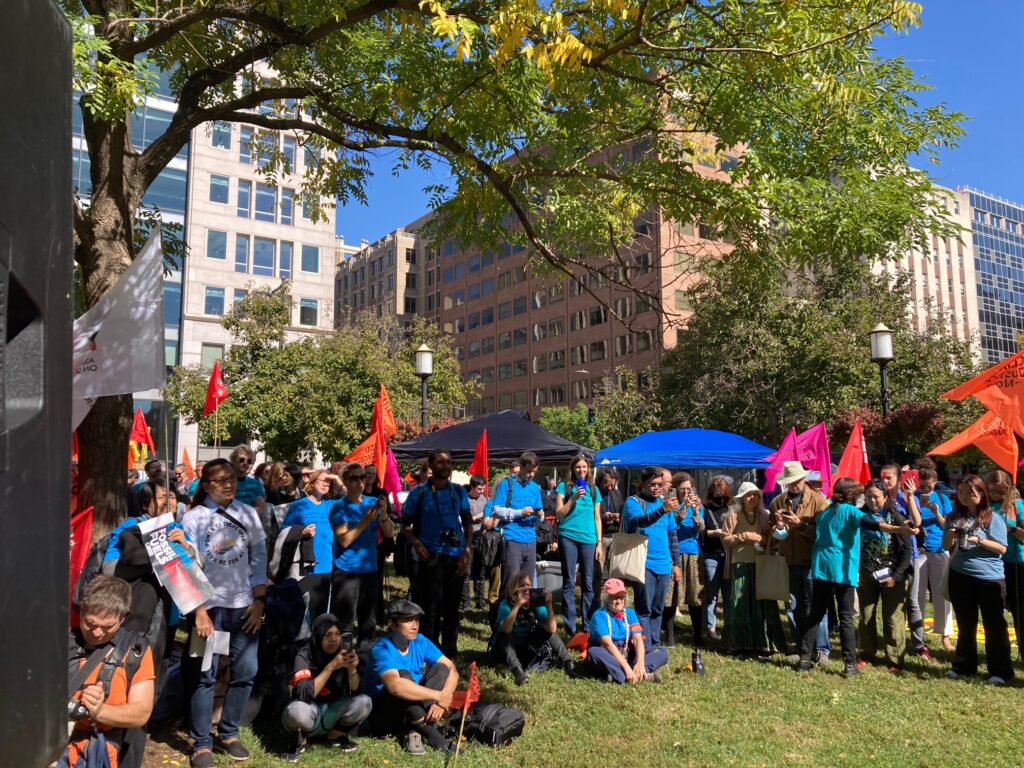 Activists gathering for protest speeches in front of World Bank Building (left)
"World Bank, your in bed with fossil fuels – get out NOW!" (bottom left)
Arab Watch Coalition giving a speech (bottom right)
Photos by: urgewald
Here you can find articles covering the World Bank Annuals Week:
"World Bank needs to restructure to address global challenges of the future", says Development Minister Schulze:
UK joins calls for World Bank reform to focus funding on climate crisis:
Ban on investment in fossil fuel demanded: